Image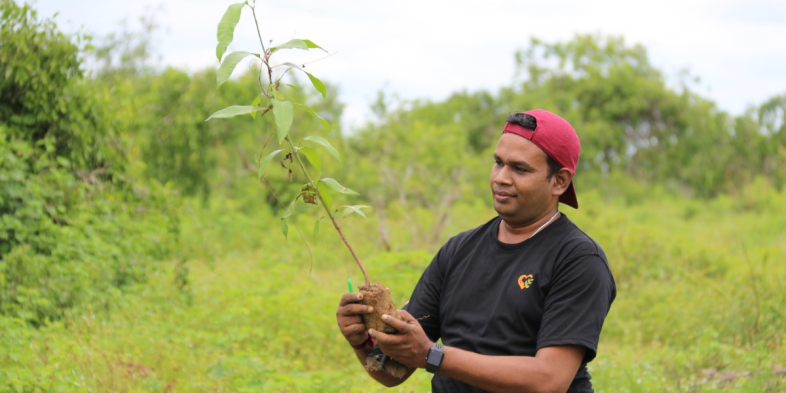 The Green Responsibility of Logistics Providers
September 01, 2022
The global supply chain, logistics, and transportation sectors have a massive impact on the environment, and freight movement increases by the day. According to the International Energy Agency, in July 2020, transportation was responsible for 8.26 gigatons, or about 26%, of CO2 emissions globally. Additionally, the transportation sector contributes to 16.2% of global greenhouse gas emissions. 
"When we talk about the sustainability and the global supply chain, we're looking at the environmental impact of these operations," says Sanjana Ravi, Global Lead – Sustainability, EFL Global. "70% of overall pollution comes from our industry. While EFL is asset-light, we still share the responsibility of the impact on the planet."
Global logistics providers have the power to set sustainable business objectives and enact logistics practices that offset these emissions. At EFL Global, this doesn't stop at environmental initiatives – a wholistic approach is key. 
"It's important to note that sustainability is not just about the environment. We work on an Environment, Social, Governance framework. EFL addresses environmental issues, social issues like local community upliftment, and internal aspects such as health, safety, and employee welfare," says Ravi. "A wholistic approach to sustainability takes all of these factors into account when looking at a business, not just its carbon footprint." 
Before jumping into sustainability projects and procedures, businesses must identify their goals and be held accountable from the top-down. The support of upper management and the c-suite is a critical component of maintaining sustainability, as these goals should be intertwined in the DNA of an organization.
"Sustainability has been at the forefront of our business, because the importance of it has been echoed from the top-down," says Ravi. "If your CEO does not echo the importance of an initiative, how can we expect our blue- and white-collar workers to understand and support it?"  
From there, businesses must identify their impact and set goals to change it. EFL Global is in the business of transportation, and as such, the global logistics company understands its impact on the environment.
"While identifying your impact, it's also important to understand your bigger purpose," says Ravi. "We can try to make small, impactful changes within an organization, but when you are part of a larger collective, you work to achieve and amplify a larger goal. This is why we aligned with the United Nations Sustainable Development Goals, or SDGs, because it is a large global cause that allows us to enact change and contribute with the right mechanics already in place."
There are various initiatives that providers can implement to not only reduce their carbon footprint, but also incorporate sustainable practices into their business models and objectives. Some include:
Data Management Systems & Carbon Emission Tracking. Providers can utilize an efficient data management system to track environment-related data on an internal level, ensuring that the right data is collected to implement sustainable initiatives and policies accordingly. EFL Global tracks information to study our overall carbon footprint such as electricity, water, paper, plastic, fuel consumption, and more, and uses this data to implement best practices. 
Involve Your Employees. EFL Global launched Global Goodness in 2019 to engage employees in long-term projects that benefit the planet and our surrounding communities. The initiative itself is sustainable, with projects that span years including reforestation, clean water, ecological conservation, disaster relief, and more. Employees can participate in social responsibility, uplift our communities, and give back with EFL's resources.
Carbon Neutral Shipment Initiatives. Many – if not all – B2B and B2C clients who use logistics services have sustainability initiatives of their own. Logistics providers can invite these clients to join them in making a more sustainable supply chain. One of the mechanisms includes carbon offsetting through the purchase of carbon credits, as well as carbon insetting using carbon sinks to create those same credits in-house.
Multistakeholder Engagement. Knowledge and resources are powerful tools – with this in mind, it is critical for logistics providers to gain memberships with organizations who can help set and define sustainable goals. Such organizations often provide education, resources, and projects for providers to utilize, as well as ensure that providers are meeting global sustainability-related standards. It is also equally important to be a part of working groups that connect organizations in the same industry to work on sustainable solutions together for a better supply chain.  
From a business perspective, the biggest benefit of sustainability is efficiency of processes, with larger initial investments that yield long-term cost reduction and green practices. EFL Global's goal is to be a complete Net Zero organization.
"While this is a huge benchmark to set for any company, if we have no long-term vision, what are we working for? Many forget that sustainable initiatives often show their results in 10-15 years – it won't work tomorrow. Businesses must be committed to the cause for the long haul." 
"We're in the 21st century, where individuals are focusing on mindfulness and consciousness both as a consumer and in their everyday lives. They're now searching for ethical brands and products, such as recycled apparel materials or ethically sourced food, to contribute to the larger cause of preventing detrimental effects to our planet," says Ravi. "Many organizations try to position themselves as 'sustainable' simply to meet the growing demand of consumers, but this won't be beneficial in the long-term. Everything we do must be out of genuine concern and a desire to change. We know that if we do not act now on issues like climate change, social issues, and a lack of resources, we may not have a future – these actions are a necessity. The actions we take today can make a better tomorrow." 
In the present day, freight forwarding and logistics will leave behind a carbon footprint. However, with the right tools and objectives, logistics providers can prioritize sustainability and work to support our environment, global societies, and collective future.