Image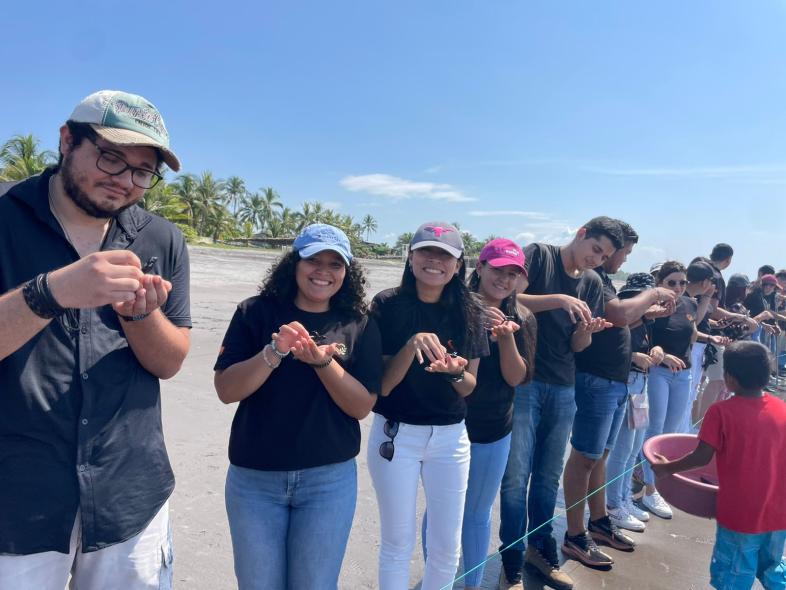 EFL El Salvador: Save the Coast Project
February 10, 2023
Sea turtles have existed for millions of years, traveling the world's oceans and visiting shorelines – but today, they are in danger of extinction. This is largely due to marine pollution, including plastic and other garbage disposed of on beaches.
According to SeeTurtles.org, sea turtles are vulnerable to ocean pollution at all stages of life, from egg to adulthood. Beach pollution negatively affects sea turtles, as they return to shore to dig nests and lay eggs, and hatchlings make their way back to the water about 60 days after. This very pollution destroys feeding and breeding habitats for the endangered species.
As a global logistics provider, ocean freight is a huge part of EFL Global's business. However, ocean freight – and the logistics industry as a whole – contribute immensely to ocean pollution and greenhouse gas emissions. According to 8BillionTrees.com, "Ocean liners release their wastes either directly over or into the ocean, and these greenhouse emissions directly contribute to the acidification of the sea." 
With this in mind, EFL Global strives to invest in projects that advance conservation efforts as well as educate our teams from the top-down on our industry's impact and how we can be more conscious. The EFL Global – El Salvador team wanted to make a change and participated in multiple projects to further our Ocean Conservation efforts. 
On October 1st, 2022, our team attended an educational talk from Luis Ramos, Biologist and Founder of FUNZEL, the Zoological Foundation of El Salvador. FUNZEL works to contribute to the conservation of wildlife in El Salvador through the permanent implementation of programs and projects. The talk focused on the impact of plastic on the environment, oceans, and turtles as a whole. We also discussed different actions individuals can take to change daily habits and help others to do the same.
On October 29th, the team participated in a beach cleanup in Playa San Diego. They also released baby turtles into the wild and attended an educational talk about El Salvador's various efforts to care for different turtle species to ensure their survival. 
Our Ocean Conservation projects will continue across Latin America in 2023, working to address Sustainable Development goals such as SDG 14: Life Below Water and SDG 15: Life on Land. For more information about our Global Goodness projects, visit https://efl.global/global-goodness.