Image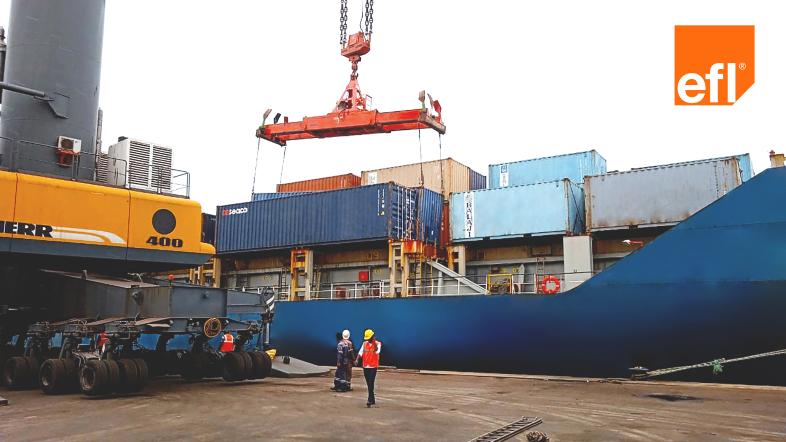 EFL Global: Excelling in Global Project Logistics
February 02, 2022
EFL Global executed an ambitious project for GE Gas Power, which involved exclusively chartering a 1,725 TEU container vessel to make an inducement call at Kakinada Port – India and Colombo – Sri Lanka for the carriage of High-Value Gas Turbine parts destined to Houston, Texas – USA. Upon arriving at Colombo Port, the containers were devanned and reconsolidated with a different optimized configuration into another shipping line's containers at the Freeport in Colombo for onward journey to Houston, TX.  
Being a predominantly bulk port, Kakinada Port poses a challenge in sourcing container vessels to make a call. Break-bulk vessels seldom have cargo bound for Houston, TX from this origin port and the larger bulk vessels on inducement calls incur an exorbitant cost for a relatively smaller consignment of cargo. The EFL Global Project team utilized their bulk cargo expertise in accomplishing this task.
This cargo was initially stored in challenging topographic conditions around 55 km away from Kakinada Port. Transportation included almost inaccessible terrain, with narrow roads which larger trucks and trailers could not maneuver; this was a tremendous ground transportation undertaking by the EFL team. Despite these adverse conditions, the team was able to provide the most feasible routes and the best possible handling for the shipment. The cargo was mobilized to a different area for repackaging, fumigation, and stuffing within containers after being made seaworthy. Cargo handling equipment such as hydras, forklifts, and cranes facilitated the movement of the consignment.
The formidable task required complex preliminary planning along with proven expertise and active supervision throughout the journey. The Project team's organizational skills and expert knowledge in managing door-to-door operations, unique handling requirements at origin, during transit, and transshipment Freeport requirements allowed them to mitigate risk factors related to customs clearance, route validation, transportation, and delivery. As an experienced international project logistics company, our assurance lies in safe execution under the most challenging circumstances.
The entire project was handled through a sustainable approach to minimize harmful effects on the environment. Fumigation was done in controlled environments without harming the local flora and fauna.
Our secure processes, solution-oriented services, and real-time integrated visibility expedited meeting our previous customer commitments. To ensure a smooth journey of this high-value cargo, our team of experts developed and implemented integrated, multimodal transportation solutions designed specifically for the complexities of this industrial project.