Image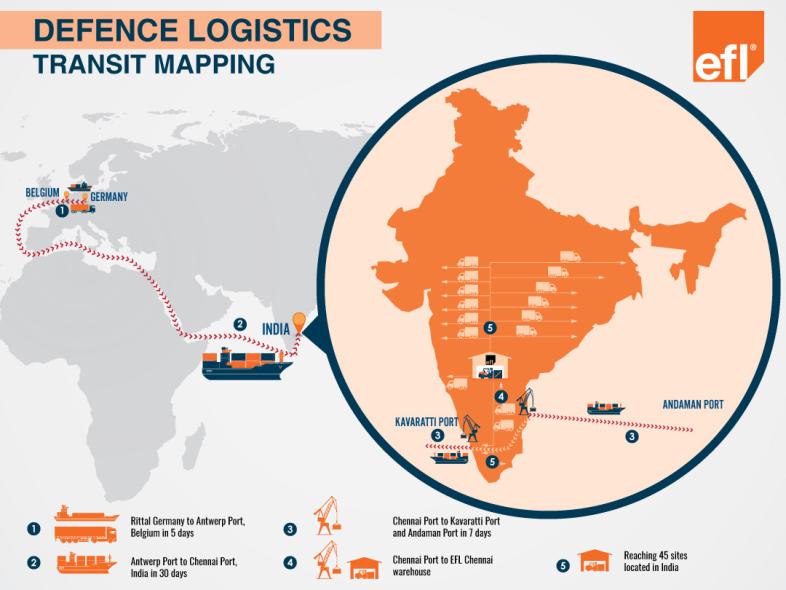 An Integrated, 360-Degree Solutions Defense Logistics Project by EFL Global
June 30, 2022
EFL Global – India was commissioned to undertake a sophisticated Defense Logistics Project with extreme complexities ranging from the sensitive nature of the cargo, navigating demanding topography, and fulfilling delivery dates. Our Project Logistics team adopted multimodal transportation, warehousing, and customs clearance as well as innovative value-added service solutions when executing this USD $20 million high-value cargo shipment for the Defense Services. The state-of-the-art industrial equipment order was awarded to a renowned multinational company which EFL Global appointed as their logistics service provider. The project required transportation of industrial solutions to the defense site locations, covering the footprint of the seventh-largest country in the world, India.
This was an opportunity to leverage our array of end-to-end supply chain solutions by delivering material to 45 site locations. The project involved complexities related to transportation of material in remote and challenging locations. It was an undertaking that allowed EFL Global to showcase its 360-degree project logistics capabilities while navigating highly complicated challenges to deliver results.
Intense planning was carried out by our team to mitigate any security concerns, as the cargo had to be escorted under surveillance to ensure the safety of our personnel and equipment. Our specialists analyzed geographical features and cargo characteristics to create an optimal delivery route and ensure compliance with all security measures during transportation, transshipment, and storage. Domestic and international movements were made possible by meeting stringent timelines, enabling the highest security standards as the cargo was delivered to many remote and urban sites. Due to the sensitive nature of the cargo, systematic monitoring and tracking resources throughout their movement and storage were required, thus ensuring greater quality and transparency in day-to-day operations. Anticipating significant regulatory requirements, our team was poised to obtain the relevant documentation when transporting goods to the Defense Services installation sites as they were flexible, adaptable, and resilient.   
The challenge of moving multifaceted cargo using scalable solutions via inland waterway barges, land, and sea involved holistic project management at all stages. Our Project Logistics team streamlined tasks from Ex Works, international freight, origin and destination customs clearance, inbound domestic cargo, warehousing, international and domestic cargo consolidation, leasing of domestic containers, and outbound domestic distribution by road, ship, and barge to neighboring Indian Islands. Careful supervision and precision were required to operate hydra cranes and forklifts at destination sites to offload containers and materials, fabricate storage facility at sites as required, and make arrangements for onsite storage between 90 to 180 days with reverse logistics enabling the return of empty equipment. In essence, all lines of business were facilitated by an integrated supply chain platform streamlined by our digital suite that automates processes and provides seamless connectivity, customizations, and complete visibility for our partners. The successful completion of the project was a testament to EFL Global's project capabilities.
Logistics partnerships remain vital to the future of the Defense Services, characterized by globally distributed forces, emerging digital technologies revamping the terrain of surveillance, and continuous strategic requirements. Defense Logistics continues to navigate new challenges in a constantly evolving framework. EFL Global leverages its project logistics specialists by finding the right solution for a global integrated logistics task, responding proactively to resolve strategic priorities of our partners.