Image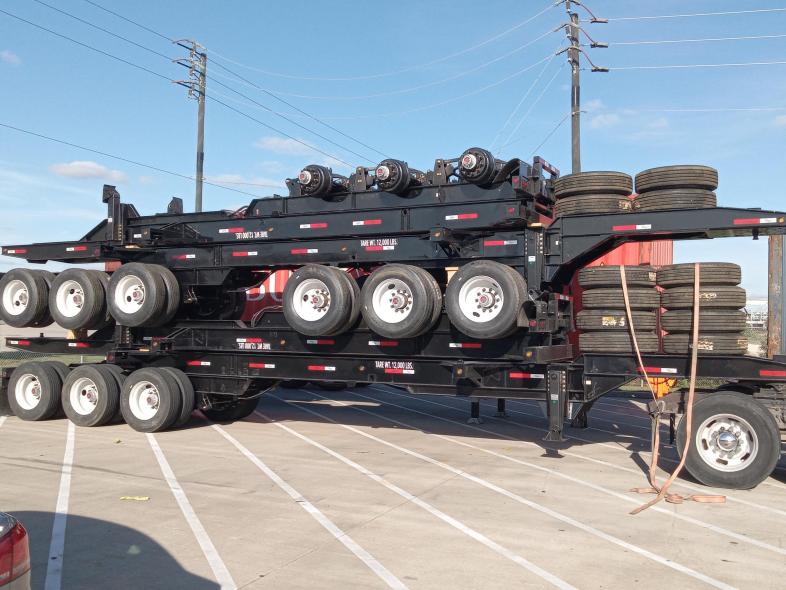 Investing in Domestic Services Offers Solutions to Market Conditions
January 03, 2023
The issues of port congestion, a lack of manpower, and a shortage of equipment span globally – especially on the United States West and East Coasts – with no signs of slowing down any time soon. What started with the COVID-19 pandemic has slowly transformed into the new norm, with an excess of imports, delays, and little-to-no storage capacity being expected. 
Flexibility in logistics strategy is a key component to ensuring business runs smoothly, despite any issues that may arise. Dave Campbell, Senior Director, Domestic Operations at EFL Global, notes that the global logistics provider's biggest strength is their ability to pivot. 
"When we talk about EFL Global's approach, the key is flexibility, nimbleness, and speed," says Campbell. "If there's a problem our customer is facing, we're willing to tackle it and invest in solutions to solve it. Instead of limiting ourselves to one or two products, we add value through our ability to adapt and come up with unique plans that work for individual supply chain needs." 
Logistics providers can navigate port congestion by identifying the problems directly affecting their customers at the ports and investing in key domestic products and solutions to resolve them. 
Create multifaceted supply chain plans & risk management strategies 
As a provider, offering a multifaceted supply chain plan and creating risk management strategies are critical to meeting business timelines, no matter what is happening in the global market. Providers and customers must work together to regularly provide forecasts and set expectations at every step of the supply chain. From there, providers can navigate issues that arise with solutions such as alternate routings or multimodal transportation options to hit their business goals, including domestic solutions. 
Invest in equipment instead of waiting for it to free up at the ports
A big problem has been equipment availability, with both filled containers and empties sitting at the ports, waiting to be picked up by the lines of trucks waiting outside. Providers can invest in their own equipment to avoid this problem entirely. 
EFL Global made a commitment to flexibility in its domestic service offerings. The global organization has invested in various chassis coverage across all container sizes in the United States, supporting its customers' drayage needs. Most recently, it added a fleet of 30+ tri-axle chassis in Houston, in addition to 250+ standard chassis and a fleet of owned trucks across the United States. These tri-axle chassis are capable of hauling overweight 20' containers, managed by drivers permitted to haul overweight cargo to ensure the efficient and safe handling of freight. 
"We're investing in assets like chassis to combat port congestion, which removes risk, wait times, and delays. This helps EFL Global maximize throughput as well as how to best utilize our truckers and fleets. We work to get freight in and out of the ports as efficiently as possible," says Campbell. "Additionally, investing in these assets leads to savings and helps us be competitive as a provider. When you move freight in and out of the ports in a timelier manner, you can avoid demurrage and other costly charges, which helps our customers, too."
Use technology to monitor assets, optimize schedules, and predict market outcomes
The world is digital, and businesses should use technological developments to their supply chain's advantage when navigating port disruptions. For example, the Internet of Things (IoT) can help to monitor and track owned assets to ensure they are being utilized in the most effective way. Additionally, businesses can use data tracking software to both optimize scheduling of pick-ups, drop-offs, and final delivery, as well as predict changes in the market to be as prepared as possible for any disruptions.
As a future-ready provider, EFL Global provides customers with multiple options for digital solutions to connect with its team and monitor cargo. Transparency and trust are two key values for a logistics provider, especially when dealing with market instability. 
"We've made critical investments in our digital products when it comes to moving freight," says Campbell. "With this technology, we are able to provide more seamless inventory management, monitor our trucking fleet and chassis with GPS tracking, and provide more real-time reporting. This optimizes freight movement and storage while improving turn times for our customers. We're also able to use data to predict market outcomes and make informed decisions moving forward, being proactive rather than reactive."
The bottom line
No matter what challenges you may face when it comes to ocean ports, providers, independent transportation companies, and customers alike are constantly searching for new ways to keep their cargo on the move. Consider working with a logistics provider like EFL Global to ensure you don't get caught in the tide.