Image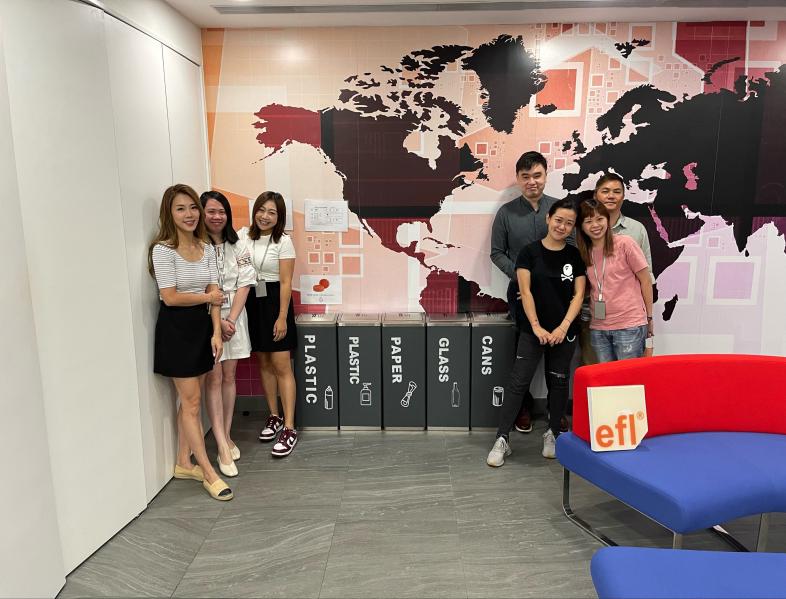 How to Create Zero Waste Work Environments
November 15, 2022
Sustainability is not a fad – it's becoming more and more critical to the future of our health, economies, and environments across the world. While many global citizens have opted to practice a more sustainable and greener lifestyle in their individual lives, it can be difficult to apply this on a larger scale – for example, to a business where hundreds of employees work from an office. To address these sustainability requirements, many business leaders have implemented 'Zero Waste' policies throughout their organization.
What is Zero Waste?
According to the Zero Waste International Alliance, Zero Waste is defined as "the conservation of all resources by means of responsible production, consumption, reuse, and recovery of products, packaging, and materials without burning and with no discharges to land, water, or air that threaten the environment or human health." To achieve this goal in a working space – and maintain it for years to generations to come – businesses must implement Zero Waste goals and day-to-day actions that employees can participate in.
What are the benefits of Zero Waste?
In a report titled "Road to Zero Waste Plan" prepared by Zero Waste Associates, researchers identified multiple benefits of pursuing Zero Waste on a city level. This includes the reduction of greenhouse gases, helping businesses and residents be more sustainable and efficient, saving energy and producing clean energy, and protecting the health of residents.
From a global level, implementing Zero Waste policies can address climate change, protect habitats, and restore biodiversity and open space through the increased use of compost products.
How does this look in the workplace? In this article, we examine different ways to bring Zero Waste practices to the office – and at home – and how we can bring a more conscious approach to our everyday routines.
Recycling
Recycling is an important step to reducing waste and conserving non-renewable resources. The office can pose a big waste problem when it comes to the use of paper and plastic materials. One way to combat this problem is to set up a recycling program for your place of work.
At EFL Global, many global teams have implemented recycling programs and initiatives to promote a greener workplace. Most recently, the EFL Global – Hong Kong team kicked off a weekly recycling program with HK Recycles, a social enterprise that ensures recyclables are accountably collected. By doing so, the Hong Kong team is ensuring that plastic, paper, glass, and can materials are being properly transported to recycling plants, rather than being buried in landfills and increasing waste.
Digitally Tracking Waste
Oftentimes, individuals are unaware of the amount of waste they produce, nor the effect it has on our planet. To increase awareness and reduce waste, businesses can utilize digital tracking programs to allow employees to see the amount of waste their office is producing – or lack thereof.
With a growing presence across Latin America, EFL Global addressed the need to begin calculating its carbon footprint in the region. To achieve this, the organization quickly onboarded all EFL Global – Latin America stations to its sustainability tracking system. This system measures energy and resource consumption, waste production, recycling, carbon emissions, and more. It also helps employees better understand what they produce and how they can improve upon these waste factors.
Replacing One-Time Use Materials with Reusable Items
One of the biggest offenders of waste production is lunchtime at the office. Many individuals around the world still use plastic water bottles and utensils, paper bags, and other items that are only made for single use, ending up in landfills that then increases waste and pollution.
An easy way to combat this problem in the workplace is to encourage the use of reusable items. Today, there are plenty of alternatives to single-use products, such as metal silverware and straws, lunchboxes, reusable water bottles, small silicone snack bags, and more. There is also an opportunity for brand promotion in this Zero Waste practice. Businesses can provide employees with these reusable items – including their logo – so individuals can practice sustainability while representing their company. This shows your brand offers giveaways with a purpose, rather than your standard pen and notebook.
At EFL Global's Headquarters in Sri Lanka, the team has implemented sustainable practices by providing all employees with glass bottles to reduce plastic waste. Additionally, the EFL Global – HQ and EFL Global – Sri Lanka teams actively promote the use of no plastic to ensure employees are informed, aware, and involved in this conscious effort.
Cutting the Commute
After the onset of the COVID-19 pandemic, many companies pivoted to a work from home model for the safety of their employees. While some companies brought their employees back to the office, there are quite a few that have continued a hybrid or complete work from home set up.
However, there is an environmental benefit to working from home: reducing pollution and waste. According to Outdoors.org, commuting has a major impact on the Earth's atmosphere and environment. When we drive gasoline-powered cars, chemicals like nitrogen oxides (NOxgases), particulate matter (PM), and volatile organic compounds (VOCs) are released into the air, as well as greenhouse gases like carbon dioxide (CO2) and methane. The result includes worsening air pollution and a contribution to climate change. Additionally, the transportation section as a whole contributes 28% of all greenhouse gas emissions, the most of any sector.
When companies allow staff to work from home, they subsequently reduce their overall contribution to greenhouse gas emissions.
EFL Global's Zero Waste Goal
As a conscious logistics organization, EFL Global is routinely implementing sustainable and green practices to offset carbon emissions and waste production, with the goal to be a Zero Waste company in due time. In order to reach this goal, the global provider will continue to encourage the use of sustainable tracking systems, implement recycling and similar programs, create items to support employees' greener lifestyles.