Image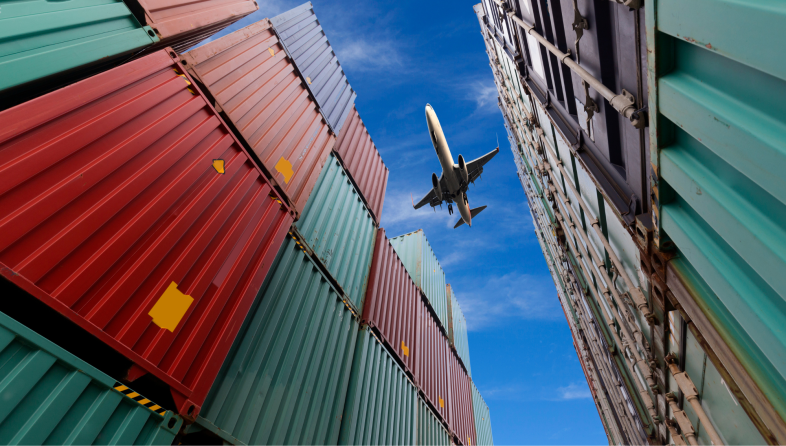 Ocean Freight vs. Air Freight: What's the Right Fit for Your Supply Chain?
October 01, 2022
Over the last three years, ocean freight versus air freight has been a constant topic of conversation for supply chain and logistics leaders. With multiple options to transport your goods from factory to storefront – and no crystal ball to inform you of what the market holds in the coming weeks – it can be difficult to choose what mode is right for your business.
The best thing decisionmakers can do is work with the information they do have. When choosing ocean freight or air freight, there are various factors that can help supply chain leaders make the right choice for their business. We spoke to Camilo Quintero, Vice President of Pricing and Product Development – Global Ocean Freight and Joe Rocha, Director of Airfreight Product at EFL Global for insight.
Speed and Timing. Expedited and standard air freight shipping will only take a few days, whereas ocean freight can take two weeks or more depending on the lane. The decision depends on your timeline: when do you need your product by?
"We work with our customers to choose the product that best fits their supply chain strategy," says Quintero. "It's all based on the performance of the product and what your business timeline allows for. There are multiple opportunities available on ocean services, such as FCL transload, LCL, and LCL expedited services, to ensure your freight arrives on time."
Cost Effectiveness. While air freight is much more cost-competitive than it's ever been, there are still differences between ocean freight and air freight when it comes to rates. As a faster courier service, air freight is typically higher in costs. If you have time to spare, ocean freight will save your business some money.
"Air freight rates have fallen significantly over the past six months, so there may be slightly less sticker shock compared to the last 2-3 years," says Rocha. "This is all part of the air freight market normalizing, including increased capacity to local gateways for smaller shipments, freeing up space for larger lots of cargo on freighter flights."
Market Sensitivities and Transportation Reliability. It's important to stay in touch with the market to see what challenges may affect your cargo's journey. Strikes, flight cancelations, port congestion, and weather conditions can all lead to delays. This can help businesses choose air freight or ocean freight for their project. Businesses can also keep an eye on the market by signing up for global transportation news and updates, such as EFL Global's weekly Market Report.
"The percentage of on time schedule reliability has increased," says Quintero. "We've seen longer delays drop from earlier in the year. There is less congestion at origin since there is less freight moving; however, we're still seeing bottlenecks at the ports and rails that can cause further delays. It's important to have a gameplan for the transportation of your cargo once it hits land, such as transloading, and stay in tune to the market and potential strikes."
Why Not Both? Multimodal transportation utilizes different modes to transport freight throughout a shipment's journey, such as using both ocean freight and air freight to get cargo from origin to destination.
"With the ocean market normalizing and capacity becoming more available to major transshipment hubs, multimodal is a reliable possibility in supply chain strategy," says Rocha. "Providers can offer more Sea / Air and Air / Sea options across the world."
By utilizing both in a multimodal strategy, businesses can save on time and costs as well as increase handling and delivery efficiency. Businesses should work with a provider like EFL Global to organize a game plan for multimodal transportation.
"Transportation disruptions can impact both modes, so it's best to have a forwarder who excels across modes," says Rocha. "An ideal forwarder will have good air and ocean carrier relationships, allowing them to secure capacity in a busy market and competitive rates when demand is low."
The ability to choose between air freight and ocean freight requires partnership with a provider that is flexible and able to adapt to the ever-changing market conditions. Looking for a partner to help you make informed supply chain decisions? Consult EFL Global for market analysis and supply chain expertise.